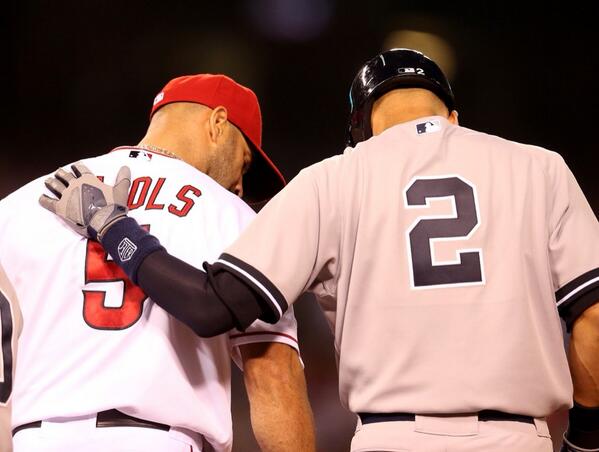 The New York Yankees took two of three from the Angels the last time the two teams met, but the Yankees have lost four of their last five games since then and dropped game one last night when the Angels drew three bases loaded walks in the bottom of the 8th off three different relievers. The Angels have stayed at .500, but have the second best run differential in the American League with a +28. Now, the Yankees are back on the
Angels schedule
, and this time it's in Anaheim. Angels tickets are averaging $121.98 for the series, which is over a 100% percent increase on the Angels season average. Since this is the only trip to Anaheim on the
Yankees schedule
it will also be Derek Jeter's final series at
Angel Stadium
, which certainly helped boost the ticket price.
5/6 - NYY Hiroki Kuroda vs. LAA CJ Wilson | Avg. Price: $105.24 | Get-in Price: $21
The last time Hiroki Kuroda faced the Angels he was chased in the fifth inning after giving up eight runs. The game is also the cheapest of the weekend, with an average price of $105.21 and a get-in price of $21. CJ Wilson will be sure to give the fans a show. He has been very reliable for the Angels since they signed him from Texas. This season he is putting up his best strikeout numbers since 2009 and walking batters at the lowest rate of his career. He held the Yankees to one run when he faced them earlier in the season.
5/7 - NYY Vidal Nuno vs. LAA Hector Santiago | Avg. Price: $152.52 | Get-in Price: $38
Thursday features the worst pitching match of the series. Vidal Nuno is another reliever the Yankees are converting into a starter. While he got the win the last time he played the Angels, he's been underwhelming to start the year. Meanwhile, Hector Santiago has been the Angels worst starter after they acquired him from the White Sox as part of the Mark Trumbo trade during the offseason. He's had a 5.01 ERA and that's not a product of bad luck. Right now his biggest issue is a lack of control. But the underwhelming starters haven't affected the price. The final game of the series is also Jeter's final in Anaheim. There will be a gift ceremony, which helps explain the $152.52 average price, which is almost 300 percent higher than the Angels season average. The get-in price of $38 is almost double the price from Wednesday.
A series with the Yankees is always an expensive one, but with Derek Jeter and his farewell tour, prices are some of the highest you'll see on the Angels schedule this season.