By Robert Cunningham, AngelsWin.com Staff Writer -
Now that we have examined most of the Angels major 2016 trade candidates I'd like to share some final thoughts on the trade deadline, actual outcomes, and what Angels fans should look forward to next year.
To be clear the author started writing these articles over two months ago when the Angels were about 9 games out of a playoff spot in mid to late May.
Since then two things have happened to give the author some increased amount of hope for the 2017 season despite the potential loss of Richards and the actual loss of Heaney and Tropeano next year.
The first is the reemergence and improvement of the 2014 version of Matt Shoemaker. Over his last 13 games, since his very brief Minor League demotion, Shoe has pitched like an elite MLB starter with a 2.85 ERA, 23.8% K%-BB%, and a 1.11 WHIP!
If Matt's reinvigoration is sustainable, and the author for one believes it is, he now becomes a very valuable top of the rotation option for the 2017-2020 seasons which also happen to be Mike Trout's remaining contractual years of control. More importantly for 2017 Shoemaker becomes the clear candidate, in light of the Richards and Heaney injuries, to lead the Angels rotation as the staff ace.
Any decision to keep or trade Shoemaker before the deadline will be based solely on whether or not Billy Eppler and the coaching staff believe in Matt's turnaround and all current signs point to the fact that they do.
The reason this is so important is that it really impacts Eppler's strategic decisions in a retooling scenario. By having a starter like Matt step up on such a large scale it now creates an environment for the team to potentially compete more effectively in 2017 rather than waiting for Richards, Heaney, and Tropeano to return to the rotation in 2018.
However Shoemaker is just one man on a team and cannot be the sole savior of our future. It requires more than just Matt to step up and create a winning environment.
That brings us to the second thing: Tyler Skaggs.
Typically after Tommy John surgery
a player's effectiveness doesn't immediately and completely return
in their first full year of pitching after the procedure. This is something that every Angels fan should keep in mind regarding Heaney and Tropeano and potentially Richards if he ends up going under the knife when the calendar turns to 2018.
There are, of course, occasional exceptions to the rule and Tyler is beginning to look, based on his Minor League rehabilitation starts, like the young starter we all hoped he could become.
In his first eight Minor League starts this year Skaggs dominated the competition to the tune of a murderous 1.87 ERA, 27.5% K%-BB% (!), and a 0.89 WHIP. Of course this isn't Major League competition but you have to believe he would be very effective in the big league rotation.
So if Shoemaker is our number one starter the author sees no reason why Skaggs couldn't be a fantastic number two? Heck if Tyler brings those types of numbers up with him we could potentially have two aces heading into next year!
The point is that the team may not appear quite as crippled as it did two months ago (and let us be honest it really did look bad). Billy Eppler could enter next season, assuming he doesn't trade Hector, with a 1-2-3 top-of-the-rotation consisting of Shoemaker, Skaggs, and Santiago.
Rotation spots four and five could be filled via free agency, trade, or even internally.
Personally the author would expect the Angels to sign a free agent on a short term, one year contract with perhaps an option since or trade for a starter with short term control as it would be expected that Richards, Tropeano, and Heaney can and will return in 2018. If these back-end starters can provide league-average production our rotation could be quite competitive.
So if Billy Eppler decides that they will give 2017 a shot with Shoemaker, Skaggs, Santiago, Trout, Pujols, and company the retooling scenario shifts back a year and we could see only one or more of the following rental players traded at the deadline:
Joe Smith
Tim Lincecum
Jhoulys Chacin
Fernando Salas
Geovany Soto
Jered Weaver (doubtful but not improbable)
The Angels could then enter 2017 with the 2016 squad basically intact and about $40MM in open payroll to make additions to improve the team. This is the rosy, positive version of the 2017 Angels.
By retaining Escobar, Santiago, and Street the Angels can play out the first half of 2017 and see if the team can make a sustained run at the Division and if they are out of the race by mid-July of 2017 they can then sell Yunel, Hector, and even Street at that point in time.
On the flip side the Angels can still compete next year, even if they do decide to move pieces like Escobar, Santiago, and Street, if and only if they bring back near-ready MLB prospects. This is a distinct possibility in the current trade environment.
Examples in the Trade Candidate series included hypothetical trades such as Yunel Escobar for Giants AA 2B prospect Christian Arroyo and Hector Santiago for Royals AA RHP prospect Alec Mills. These young players could be potential contributors to a successful 2017 season and beyond.
No matter what path Eppler takes, whether it is retaining key players, a full fire sale, or a partial sell-off, the Angels won't be out of contention for long in the author's humble opinion if this quick retooling is executed in a logical manner with full ownership payroll commitment and support.
In order to shed light on the possibilities that exist for the Angels to compete in 2017 let me present an example of a series of hypothetical trades, signings, and roster moves for a possible retool scenario for next season.
Let us assume that the Angels make the following 2016 trade deadline moves:
1) Trade 3B Yunel Escobar to the Giants in exchange for AA INF Christian Arroyo
2) Trade RHR Joe Smith to the Mets in exchange for AAA LHR Josh Smoker
3) Trade C Geovany Soto to the Orioles in exchange for AAA RHR Oliver Drake
4) Trade RHR Fernando Salas to the Royals in exchange for cash considerations
Then, in the 2016-2017 offseason, the Angels make the following hypothetical free agent signings and trades:
1) Sign C Wilson Ramos to a 5 year/$75MM deal with an option year for $15MM (Average Annual Value of $15MM)
2) Sign RHP Ivan Nova to a 4 year/$40MM deal with an option year for $10MM (AAV of $10MM)
3) Sign RHR Kenley Jansen to a 4 year/$60MM deal with the ability to opt-out after 2017 and 2018 (AAV $15MM)
4) Trade C Carlos Perez and RHR Huston Street to the Twins in exchange for INF Jorge Polanco and LF Max Kepler
5) Trade A RHP Joe Gatto and A+ RHP Justin Anderson to the Royals in exchange for SP Edinson Volquez
After that series of transactions the 2017 roster now looks something like this: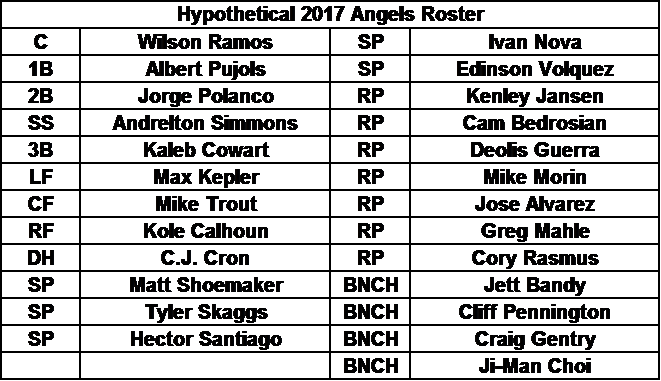 That is a competitive roster in my personal opinion and one that is not beyond the reach of the Angels current trade assets and 2017 payroll.
Beyond that team depth will also improve with the following players available in the upper levels of our Minor League farm system:
That list above is more about quantity rather than quality but the Angels will have a sufficient amount of position player and relief depth. The only area that might need an infusion would be starting pitching depth and Billy Eppler would likely sign one or more rotation options on a Minor League contract to ensure that there are options for the team if the scenario arises where the big league team needs help.
Again the point of that whole thought exercise is to show that 2017 isn't a lost cause. A series of moves like the above could transform the team from the semi-crippled version you see now into a contending squad next year.
On the offensive side you potentially have an improved lineup with some combination of Kepler, Polanco, and Calhoun hitting at the top of the order and the middle of the lineup would have a lot of thump with Trout, Cron, Ramos, and Pujols doing the heavy lifting. If Simmons continues his recent improvements and Cowart can provide even close to league-average wRC+ it will be a potent run-scoring squad.
The rotation, if the performances of Shoemaker and Skaggs hold, would likely be a good, competitive group that should provide quality innings and a chance to win every start. Both back-end starters, Nova and Volquez, are extreme groundball-type pitchers which would help maximize the value that Andrelton Simmons brings to the team.
Speaking of defense, Kaleb Cowart combined with Andrelton Simmons would create a very effective defensive duo on the left side of the infield and would allow the Angels to continue implementing defensive shifts against left-handed hitters (the Simmons-only on the left side shifts). The athletically-gifted, weak-armed Max Kepler could join Trout and Calhoun in a very talented defensive trio of outfielders while Wilson Ramos and Jett Bandy create a very gifted defensive duo behind the plate.
The bullpen would be dramatically improved with the addition of Jansen (remember on a potentially short-term contract if he opts out of his deal) at closer. Throwing behind him would be some of the familiar names from this season including Bedrosian and Guerra. If the Angels are out of contention at the deadline they could move Jansen in trade as he would likely opt out of his contract anyway for one or more prospects to continue building on our growing window of contention.
I say all of this because I love this team and I, like many fans, want to see them succeed. The path, laid out above, is just an example of how they might do that in 2017.
If the wheels fall off of the wagon next year the stage is still set for 2018 and beyond when the likes of Richards, Heaney, and Tropeano should return to the fold giving the Angels some really good rotation options combined with a better free agent market after the 2017 season.
Finally I'd like to end with some thoughts regarding the Trade Candidate series as a reminder of what you will likely see in the coming days:
1) Although it would be great to find the perfect trade suitors and pull off all of the right trades for all of the expendable and expiring contracts on our roster we will only likely see a small handful of Angels related trades.
2) Out of all of the most likely trade suitors discussed in the Trade Candidate series the Royals, Giants, Pirates, Marlins, Red Sox, Mets, Blue Jays, Tigers, Cardinals, and Orioles are the most likely teams that we'd pull off a multi-player trade with before the deadline.
3) A lot of the potential teams listed in the Trade Candidate series were ones that the author felt were the "best fit" in terms of their organizational needs and defensive alignments. Of course other teams could become desperate and swoop in making an offer the Angels can't refuse even if their roster and defense won't maximize that player's potential. No one is a perfect fit anyway.
4) It is the author's opinion that Yunel Escobar is more likely to be traded than Hector Santiago, at this moment in time, especially now that Tropeano is possibly out through next year. If Billy Eppler's goal is to retool for a run in 2018, rather than 2017, then both of them will be traded by August 1st.
5) Out of all the players listed in the Trade Candidate series the most likely ones to go before the trade deadline include Joe Smith, Fernando Salas, Tim Lincecum, Geovany Soto, Jered Weaver, and Jhoulys Chacin simply because their contracts expire at the end of this season and if the Angels are not contending then getting something for these players is worthwhile even if it is simply cash considerations to bring the team payroll under the Luxury Tax Threshold.
6) That being said our starting pitching depth is severely compromised right now so the Angels might be more content in keeping Lincecum, Weaver, and Chacin for the remainder of the year. The reality is that all three of them have negligible trade value so we will probably see them finish out the year in Angels red.
7) Billy Eppler can and should hold on to any player that isn't bringing back a sufficient return in trade if they are under control beyond this season. If he doesn't get solid offers for players like Huston Street for instance he would be better off taking a gamble and testing the trade waters in the offseason or at the trade deadline in 2017 to give that player or players a chance to return to better playing form.
8) Most Likely National League Trade Partner: the Giants. It is the author's personal opinion that if the Angels can acquire Christian Arroyo in a Yunel Escobar or Hector Santiago based trade they should do it. Alternate partner is the Marlins.
9) Most Likely American League Trade Partner: the Royals. Even though they may not be buyers at the deadline, in part to their precipitous slide in the standings, we have players with contracts that align with their expiring window of contention that ends in 2017 when most of their good players leave to free agency. Alternate Partner is the Orioles.