By Robert Cunningham, AngelsWin.com Staff Writer -
Author's Note: Because the author does not have access to complete team financial data the numbers contained in this article represent actual published contractual details or best estimates and could be proven to be incorrect at a later date and time. Great effort was made to provide factual evidence using reliable sources such as Baseball-Reference, Baseball Prospectus, MLBTradeRumors, Spotrac, and FanGraphs among others.
The Angels 2016 season can be described as nothing short of a huge disappointment for Arte Moreno and the entire organization who will now take steps to improve the team and prepare for next year and beyond, across the remainder of Mike Trout's contractual years of team control.
As we have done over the last two years the conversation for the 2017 season needs to start by discussing and understanding the Angels goals, restrictions, and short and long term needs.
Every year the primary goal is to put the highest-caliber team on the field of play to secure and bring home a World Series Championship.
Team budget, despite significant money coming off the ledger, is likely still a restriction this year and it is quite probable that Arte Moreno will require Billy Eppler to stay below the Competitive Balance Tax (CBT, more commonly known as the Luxury Tax) threshold again in 2017 despite
his recent, contrary, comments
.
The CBT threshold for 2017 has not yet been determined because Major League Baseball and the Player's Union have not come to terms on a new Collective Bargaining Agreement (CBA).
If MLB and the Player's Union cannot come to an agreement by that time it could result in a work stoppage and even a prolonged labor dispute resulting in games not being played.
As David Cameron stated
, baseball has,
"enjoyed nearly unprecedented labor peace among the major American team sports."
, so there is certainly motivation to maintain that armistice moving forward.
However, as Cameron and
others
have noted, there
are several issues
under discussion that could prove to be sticking points including:
 Pace of play
 Length of Regular Season Schedule
 Player Compensation
 Revenue Sharing
 Domestic Violence Policy
 Public Dissemination of Player Health Data
 Ability to Trade Draft Picks
 International Draft
 MLB Geographical Expansion
 Modification and/or Elimination of the Qualifying Offer
 Defensive Shifts
One or more of these issues could prove to be a roadblock in negotiations. The hope of course is that all sides can compromise and reach common agreement on a new CBA so that the fans can continue to watch uninterrupted baseball.
If negotiations proceed smoothly the new CBA should be released prior to the end of the season or at the latest by the end of November before the current CBA expires. This will allow the Angels front office to read and absorb the new regulations and how they impact team payroll and the overall business model.
It is possible too that a new CBA might temporarily delay offseason activity across all of MLB until team front offices grasp all of the details and implications that the fresh agreement contains. On the flip side teams likely have a good idea of the items being discussed and might take actions early before the new rules are put in place in anticipation of projected changes. The former seems more likely however.
What this all means in regard to team financials and the CBT is that the new CBA could have unexpected impacts which might keep it at the current $189MM level, raise it up to $200MM or more, eliminate it entirely, or even substitute it for a new system.
Because there is no way to know what will happen to the CBT, the Angels payroll budget will likely be capped at $189MM until the rules are understood and an operating budget can be firmly identified.
In this case the Angels would likely spend no more than $180MM to start the 2017 season if nothing changes.
The reason for that number is the team needs to maintain payroll margin in order to make potential trade's in-season or before the deadline to reinforce or upgrade their roster. Keeping a few million in reserve maintains roster flexibility. Because the Angels are a big market team this might not matter to Arte Moreno but it is a common business practice.
Another very important goal is the continuing development of the Angels Minor League farm system. The Angels took an important step forward this year with what appears on paper to be an above average draft in 2016.
Finally the Angels will not only have to fill critical positions around the diamond, in the rotation, and in the bullpen they will have to build sufficient depth behind those players. Billy took a shot at this last year but it still wasn't enough and is a real concern again in 2017.
As it currently stands, if the Angels bring back all of their contracted (including team options), arbitration eligible, and controllable players and you add in benefits and minimum salary players to fill out the 40-man roster, payroll will be approximately $167.9MM based on Average Annual Value (AAV) as seen below: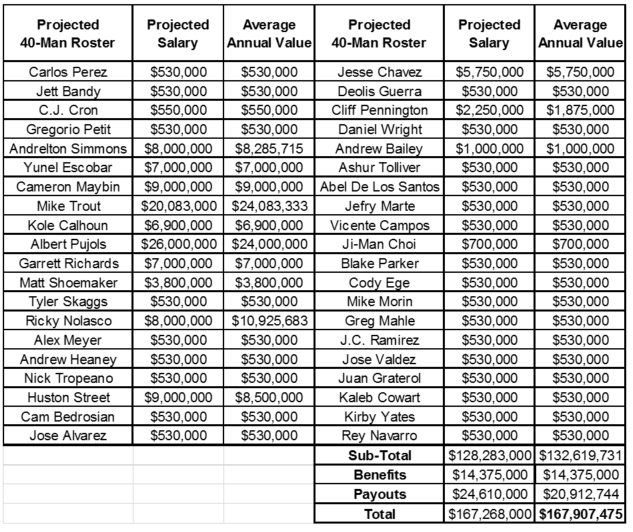 By clearing out Wilson's and Weaver's contracts the team, after estimated arbitration raises for Calhoun, Richards, and Shoemaker, will be approximately $21.1MM below the current CBT threshold.
The estimated arbitration numbers for Kole, Garrett, and Matt were obtained from
MLBTradeRumors.com
which publishes its annual estimates that have been, year over year, reliably accurate.
Per the current CBA, Benefits cannot exceed more than 10% of the preceding year's base number from year to year. This rule is in effect through Dec. 1st, 2016 but could be modified in the new CBA.
The 'Benefits' dollar amount, above, represents a 10% increase over the projected number from last year's primer. It represents a conservative, high dollar amount for 2017. It may be slightly lower or even higher but for the purpose of this discussion the difference is negligible. Overall Benefits do marginally impact team payroll every year and the new CBA could potentially change how this money is collected and allocated.
Additionally certain players, such as C.J. Cron and Ji-Man Choi, had 2016 salaries that were slightly higher than the league minimum salary, per Baseball-Reference.com. The author has made rough estimates of 2017 increases for those particular players. These estimates, if off, should have a negligible impact on the payroll discussion.
Ricky Nolasco has a clause in his contract that if he exceeds 400 innings pitched, between 2016 and 2017, his 2018 option becomes a player option. CBA Section E (5) (a) (iii) states that if an option year can potentially be both a team and a player option, that option year will be considered a guaranteed year for the purposes of AAV calculation. Simply put Ricky's option year appears to count towards AAV whereas if it was only a club option it would not.
Josh Hamilton's remaining contract is included in the 'Payouts' line. When he was traded his remaining contract was restructured and reduced by approximately 13.3% since he no longer had to pay California State Taxes
per COTS contracts
.
The AAV represents that restructured value minus the approximately $7MM ($1.4MM AAV) the Rangers now carry on their payroll. Because the precise details are not known this number may be off a bit but the difference should be minor. After 2017 Josh's contract will mercifully fall off the books.
In 2016 the minimum player salary was $507,500. After the last CBA was negotiated there was a fairly sizeable increase in the minimum player salary so the author has made an educated guess of $530,000 in the 2017 season for the purposes of this article. It could be more or less but the difference should be fairly minor to the overall payroll discussion.
So Billy Eppler, just like last year, will be somewhat constrained in spending potential if the CBT threshold holds steady. No matter what, he will be able to purchase one or more free agents and make trades if the Angels feel they can improve the team and he has already done so by signing Jesse Chavez and Andrew Bailey and trading for Cameron Maybin.
It is also possible that the outstanding stadium issue, in the form of a large capital outlay to renovate or build a new park, could impact a decision to limit or even cut spending on team payroll. This has been an ongoing issue and distraction for Moreno and the City of Anaheim and does not have a clear resolution in sight. Arte has until 2019 to opt out of his lease but must
disclose his decision by October 2018
.
As was stated last year, and the year before, the caveat to all of this payroll discussion is that Arte has consistently and fully funded team payroll so these known or perceived budget issues may just be guidelines and could be violated at Moreno's whim.
In fact, as stated last year, Moreno did go over the Luxury Tax threshold once back in 2004, albeit, by a measly $927,000.
Although it has been discussed ad nauseum, the Angels missed a prime strategic opportunity to exceed the Luxury Tax threshold in the 2015-2016 offseason, so the odds of it happening this year, in a highly distressed, low quality, free agent market, seem low.
Here is a snapshot of the guaranteed contractual money owed to Angels players in the coming seasons: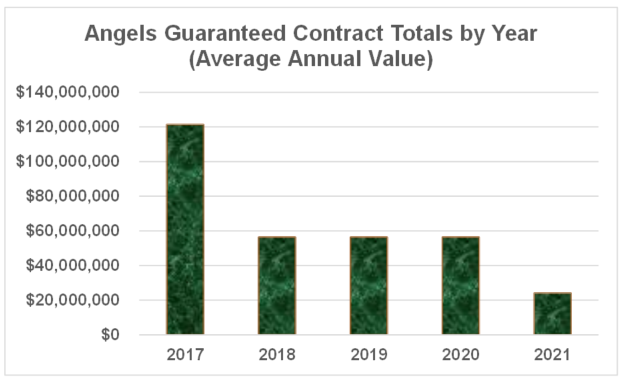 The Angels currently have eleven guaranteed contracts to pay in 2017 for Pujols, Trout, Hamilton, Simmons, Maybin, Pennington, Escobar, Nolasco, Bailey, Chavez, and Street totaling $121,332,475.
For 2018, several of those guaranteed contracts fall off the books and the Angels will only be paying for Pujols, Trout, and Simmons totaling $56,369,048. Nolasco and Street both have team options for 2018 (Ricky has a vesting condition that can turn it into a player option) so that total could rise if either one, or both, of those are exercised.
That $56,369,048 will hold steady for 2019 through 2020 and then the final year of Pujols contract lingers at an AAV of $24MM in 2021.
Of course there will be arbitration and minimum salary players that will add to those guaranteed dollars as seen in the 40-man payroll chart above.
In order to compliment the core group of players the Angels need to ponder what is available internally, on the trade market, and in free agency.
Frankly there are several targets the Angels should seriously consider and inquire on. There are internal solutions and trade and free agent targets that make sense for the Angels if they can find the right match or price.
Additionally, the Angels did end up with the 10th round protected pick for next year's Rule IV Draft and that could allow them to sacrifice a 2nd or even a 3rd round pick if they want to sign any free agents with a Qualifying Offer attached. The Angels should not overly sacrifice their farm rebuild if they cannot acquire their primary targets on the free agent market.
This is why the 2016-2017 offseason will be so difficult to navigate particularly because the new CBA has not been settled on and released. There are so many unknowns and moving parts right now to see any path at all, much less a clear one.
Eppler's background in scouting and finance could actually prove very valuable in this chaotic environment. A new CBA could have serious financial implications for both the big league team and the farm system.
As indicated last year Billy has been praised within the Yankees organization for his ability to identify Minor League talent and
find reclamation players
that add incremental value so it appears that he is the right person with the appropriate skill set for the here and now.
Since Eppler hasn't provided a lot of sound bites regarding team needs, we will, as we did last year, take a stab at it from the outside looking in.
Left field has been a black hole for the last three years. Eppler, right after the World Series concluded, addressed this need by acquiring athletic OF Cameron Maybin to play there. He should provide reliable offensive production combined with above average defense for the team. If Cameron's revamped swing is a real improvement this could prove to be a pretty savvy pick up by our new GM.
Second base has also been a problem both offensively and defensively. Giavotella worked hard but it just wasn't enough and the Angels will likely be forced to go with an internal option or find something on the trade market as the free agent options generally have defensive skills but lack overall offensive talent.
The rotation needs help and Billy, as part of an early aggressive approach to the offseason, has already acquired one swingman in SP/RP Jesse Chavez. There is still a very real possibility that Eppler is not done adding to the starting pitching staff as the Angels could use another veteran left-handed starter to provide balance to the rotation.
At least one more veteran bullpen piece was needed and, again, the Angels went out and re-signed RHP Andrew Bailey on a one year deal. When you add him to the mix of Street, Bedrosian, and all of the waiver claims Billy has made over the last year you can see the makings of an improved relief staff. Just like the rotation above there is still a real possibility that the Angels could add one more veteran reliever prior to the start of 2017.
Beyond those worries the Angels have potential concerns at third base, first base, and catcher. Only shortstop and center and right field have reliable, long term contributors.
The short term shopping wish list should include an upgrade at second base, a veteran catcher, a starter, and at least one more quality bullpen arm.
Looking out beyond 2017 the Angels will need to find more permanent solutions at third base, left field, first base, catcher, and in the bullpen.
Another season of Yunel Escobar is acceptable but what happens after that is a legitimate question. Maybin is only here for 2017 unless the Angels extend him. Cron will enter arbitration after this season is over and that process favors power hitters which could potentially make him expensive after the 2018 season. Perez and Bandy provide fine defense but the team might not be able to afford keeping their bats in the lineup every day. These are just some of the concerns that Billy Eppler needs to face and address, or at least consider, this offseason.
The Angels focus should continue to be on the 2017-2020 seasons. Those, of course, are the remaining four seasons leading up to Mike Trout's walk year in 2020 unless he is offered, and signs, another extension.
Every effort should be made to position this team to make a serious playoff push each and every year, between now and then, to maximize the probability of another Angels World Series Championship.
In the next section we will generally discuss Eppler's strategic choices to the upcoming offseason.