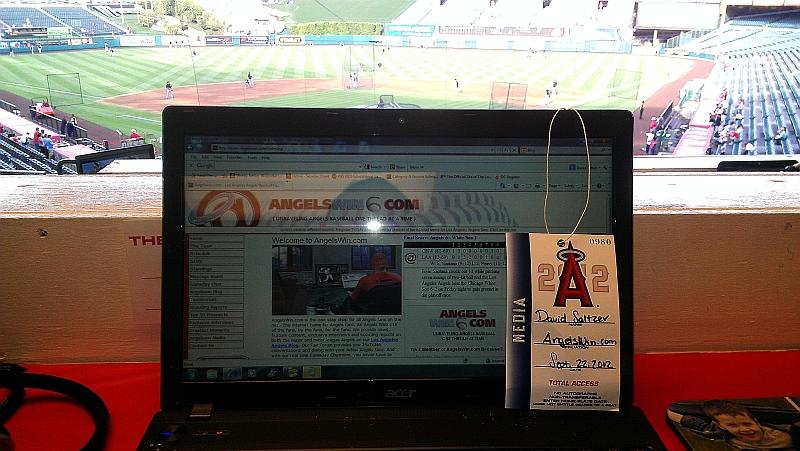 By David Saltzer, AngelsWin.com Senior Writer
ANAHEIM, CA -- Everyone has a preferred learning style. Teachers talk about audio-learners, visual-learners, and kinesthetic-learners: students who learn best by hearing something, seeing something, or doing something. While some people are multi-modal, most have one dominant learning style.
With that in mind, one interesting side effect of the expanded playoff format is that it has changed how teams use their final games in September. In the past, teams that were out of contention would use the final month of the season to preview some of their organizational talent and to help those players break into the Major Leagues.
However, now, with so many teams still in contention, there are fewer and fewer opportunities for Minor Leaguers to get their feet wet in the Major Leagues—especially in a non-pressure situation. More teams are focusing on winning now rather than building for the next year.
As the Angels prepared on the field for a crucial game in their playoff drive, I asked several veterans about which system they thought would be better for the long-term development of a player: the hyper focus on winning now—with less playing time for prospects, or the older format in which prospects had more time to get their feet wet in the Major Leagues and less pressure. Not surprisingly, there was a split opinion amongst the veterans.
On the one hand, Angels TV announcer Mark Gubicza said that "players are better off by watching the veterans go through the process of a playoff run." He said that young players would learn the most by "watching and hearing what the players are doing as they prepare for each game" rather than getting into a game that didn't have any playoff implications.
Furthermore, Gubicza elaborated that the few opportunities a player would get in a pennant run would be far more significant in his long-term development. Using Nick Maronde as an example, Gubicza talked about how beneficial the experience was for him to come into pressure situations, especially since he succeeded. Talking about Maronde's first appearance in the Major Leagues, he said "Getting into that bases loaded jam and then getting out of it will give him the confidence he needs to succeed. You can't get that experience any other way."
This sentiment was echoed by former Angels pitcher Clyde Wright who said "If you put a player up in a game like that (a non-contention game), he's most likely just going to face other Triple-A players, so what good would that do?" His point was, teams playing Minor Leaguers would most likely be playing against other team's Minor Leaguers, and that wouldn't give the player a true sense of the Major Leagues.
Even if a player did perform well in such a situation, Gubicza went on to point out that whatever stats the player put up would be discounted by the organization. "Even if a player hit .300 (in a September callup), a manager would know who it was against. Not to say that he won't hit that in the future, but, no one would expect it" Wright agreed.
However, just to be certain that this wasn't a pitcher's issue, I asked the same questions to former Angels second baseman Bobby Grich to get a veteran hitter's point of view. He did in fact disagree. He said that "playing time is made with time on the field. It's better to get over your jitters . . . Anxiety comes from inexperience."
Luckily, I still had Wright there, and engaged both in a bit of back-and-forth on the issue. Some of the differences in opinion may stem from the organizations in which both players developed. With the Orioles, Grich said that they would only bring up a few prospects and that only one or so would get into a game at a time. So, the vast majority of the lineup was still composed of veterans. Grich then asked Wright how many prospects the Angels would have brought up at that time, and Wright shook his head and said "more."
There were several areas in which Grich and Wright agreed. First, from the prospect's point of view, "the meal money was better in the Major Leagues" as Wright pointed out. And Grich did agree that managers were very quick to note against whom a young player had success—whether it was a veteran or another prospect.
One interesting area that emerged where both shared similar sentiments was how they viewed playing time for prospects as the veterans. Neither liked having a prospect getting some playing time at their expense. "We were playing to get our numbers" said Wright,
"and we negotiated our contracts in the winter based on our numbers." Both said that managers were very sensitive to those issues with players. However, Grich did add that if he was in a 1-for-16 stretch, a break was something that might have been welcomed "depending on if I was hot or not."
I finished by asking both Grich and Wright if they would have preferred to have the Wild Card format in their day. Grich said he "would have loved it. There would have been so much more interest in the game. A lot more ballparks full of excited fans."
Wright on the other hand, ever the dispenser of truth and wisdom, thinking back on the standings said "It wouldn't have made any difference for most of the teams I played on—unless you took the bottom two teams!"
So, there you have it fans: Three veterans' takes on what is the best use of playing time in September. Maybe it all does reflect on how they learned best: Gubicza and Wright by seeing and hearing, and Grich by doing. Either way, as a fan, I prefer to see the Angels fighting up until the very end. The expanded format makes these games all the more important to watch and I find myself even more passionate as a fan at this time of the year.