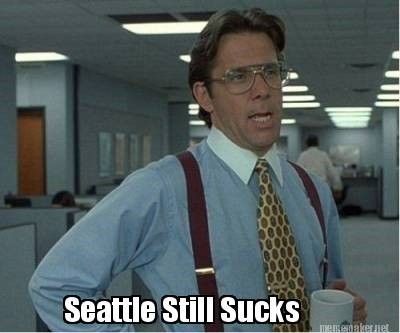 By Glen McKee, Glutton for Punishment -
So, we're going into Seattle after (I'm presuming, I'm writing this before Thursday night's game) getting swept by the Cardinals and riding a six-game losing streak. The Mariners will be in first place and we could very well be in last place instead of just being tied for last place. What is there to get excited about? It's the Seattle Mariners.
First off, they have our ex-GM, Jerry Dipoto, the Sarah Palin of GMs. Can't finish his term and had to bail to Seattle. He was so traumatized by Mike Scioscia that he took an Angels executive with him to be manager of the Mariners so he wouldn't have to interview anyone. What a wuss.
Secondly, it's Seattle, a city full of slump-busters. Seattle plays worse at home than on the road. That makes them ripe for a reaming from a bad team (that's us) looking to find any light at the end of the tunnel.
Third, this guy lives in Seattle:
He roots for the Angels, even when he forgets to bring his Angels gear to the games. That should be enough to get us over the hump.
This offseason the Mariners traded Mark Trumbo to Baltimore, where he's hitting like crazy. That means there's literally nobody on the Mariners that I like. Look at that picture of Felix Hernandez:

He may be a great pitcher but man, he looks like a total douchebag. How could anybody root for him? He looks like he should be trying to sell me a second-hand mattress for a great price. The Mariners also have Robinson Cano on their team and while I can't say much bad about him, every time I read his name I hear John Sterling's voice in my head saying "Don't ya know!" and then he says a few more of his stupid catchphrases and I want to punch somebody. So for that reason alone, eff Robinson Cano. Don't ya know.
Let me close with my own story from when I visited Seattle. I was fresh in the Navy and getting ready for my first long deployment. My ship did a short jaunt from San Diego to Seattle and we were in port for a few days. I was 20 at the time (1989) but a friend and I snuck into a bar. We got thrown out, snuck in again, got thrown out again. As we were leaving the second time a homeless lady walked by us and yelled "Lesbians are the cleanest people on the face of the earth!" Another lady, perhaps homeless but maybe not, came up to us and said "I'll give you guys a hug for a dollar each!" My friend said "you should be paying us for a hug!" That's the best thing I can say about Seattle, the homeless people there are interesting.
Go Angels. If we win more than one game there I'll tell another Seattle story about a lesbian band named Venus Envy.