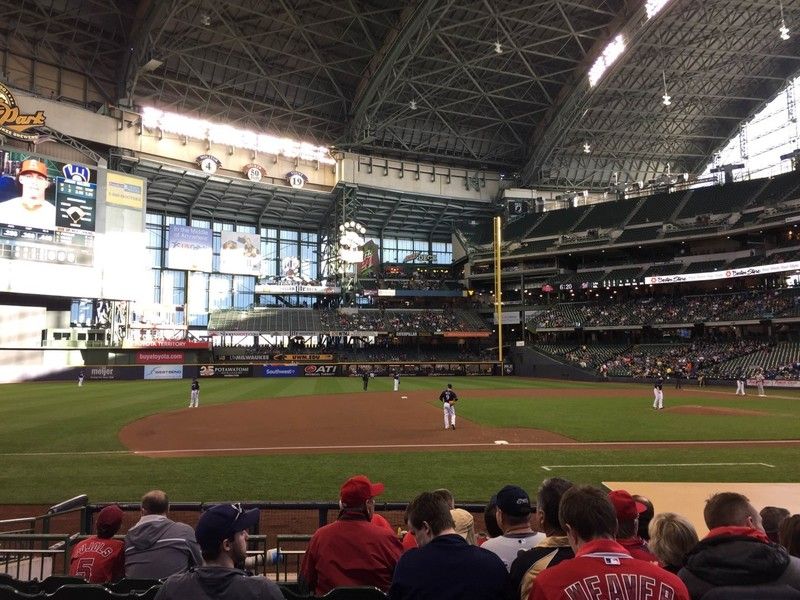 By Nate Trop, AngelsWin.com Staff Writer -
The Miller Park Experience – AKA getting good seats on the cheap to watch the Angels lose on the road to another bad team – by Nate Trop
Some background: I moved to Wisconsin three years ago after spending the first 31 years of my life in the San Gabriel Valley and I love it here. I have been trying to talk everyone I know into moving here, I know it isn't for everyone, especially if you do not like the cold, but other than that it is great. Everyone is nice, there is more green in one town than there is in all of southern California, the cost of living is reasonable and as far as I can tell the only drawback is that we don't have In N Out, something Stradling assures me he is working around the clock to rectify… although he did just get married (mazel tov) so I am worried I no longer have his undivided attention to this issue.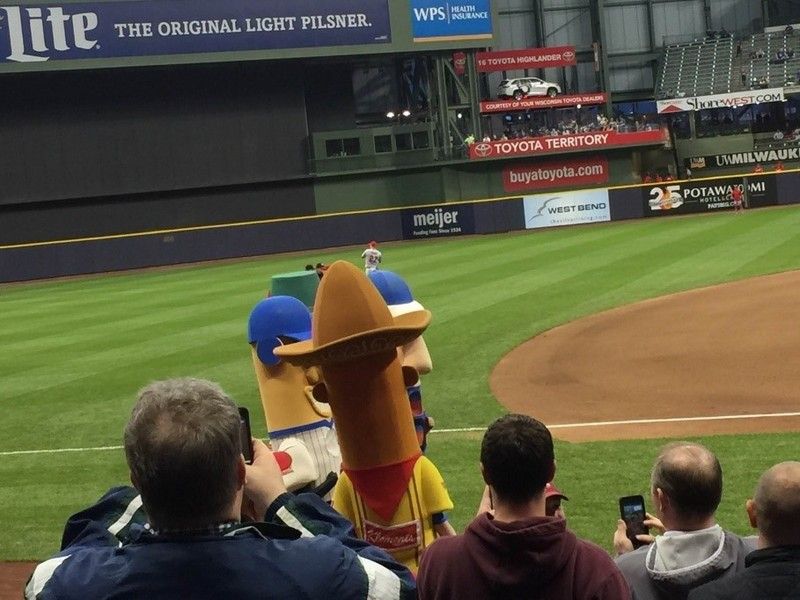 This is the second time that the Angels have visited Miller Park since I moved out here and I have been to several other Brewers games along the way, almost all of which with the roof closed which is definitely a different experience to watch a baseball game in, I prefer it with the roof open but everyone should experience at least one baseball game with the roof closed. Regardless of the roof being open or closed it is a very nice stadium. Built in 2000 it is fairly new and updated, aesthetically it looks very nice and the overall environment is great for taking in a game. You might think that being in Milwaukee and the team being named the Brewers it isn't a great place for kids but you would be wrong. My daughter and I were decked out in Angels gear and nobody said one bad or negative thing to us. Sure they serve a ton of beer and inevitably there are fans that drink too much but the people out here are much better at handling their booze and don't immediately turn into aggressive assholes when they get drunk. Mixed with the fact that the ballpark is never full, it is the best family environment I have been to of the dozen or so baseball stadiums I have visited. Kids (and adults too) absolutely love the sausage race during the game.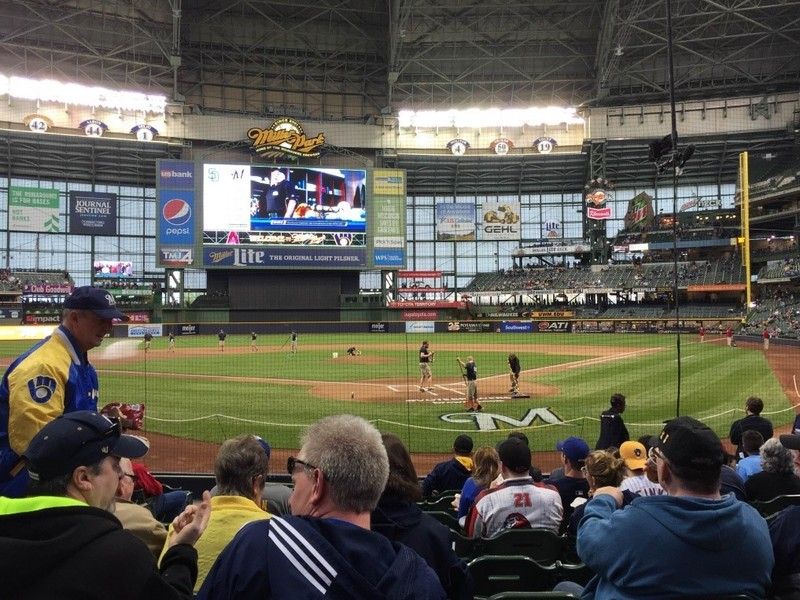 I went to Monday and Tuesday's games, skipping the day game on Wednesday (the only one the Angels won of course). You can only pay so much to watch two bad teams go at it. On the subject of price, since Chuck doesn't pay me anything I was thrifty with my ticket purchases, the first night buying tickets behind the Angels dugout for less than $20 and the second night 10 rows behind the right hand batter's box for $10. My wife was out of town so it was just my daughter and I, two seats for less than $50 the first night and less than $35 the second night after fees is great value. For some reason, the Monday game started at 6:20 which seemed strange and because of that the attendance was 21k vs 28k for the Tuesday night game.
I won't spend a ton of time on the games themselves, most of you know the Angels lost both games, the offense was generally good and the pitching was generally awful. On Monday, Weaver (predictably after someone gave him the kiss of death in the forum) wasn't missing bats and was overall looking very hittable and Scioscia left him in too long, maybe because the bullpen is terrible too. With a difference of ~5 mph between his fastball and breaking ball nobody was getting fooled. At one point, for some reason with two outs and first base open Scioscia decided to walk Braun to get to Lucroy and Lucroy proceeded to gap one for two RBI and the lead. This isn't walking Trout to get to Pujols… Lucroy is probably the better hitter of the two. Mahle was awful out of the bullpen and Pujols pimped a single off the wall, proceeding to get thrown out at second because he didn't hustle and when he did begin to hustle he is apocalyptically slow, I mean Zombies in a horror movie slow, Bengie Molina slow. Finally, the freakin pitcher, Nelson had two hits and an RBI. In a kind of funny moment, after Pujols was ruled safe at home from a Scioscia challenge, the umps sent CJ Cron to second before going back and reviewing again then sending him to first instead. On the big screen they showed it with an overlay saying "This is your Associated Bank silver linings moment." Also in this game during a Mike Trout at bat in the third inning the scoreboard malfunctioned and had the Brewers Win graphic on, along with all the other scoreboards in the stadium. It took them at least ten minutes to fix it. I couldn't help but wonder if they did it on purpose to try to throw him off. Trout later crushed a HR off the batter's eye in center, the ball just sounds different when he hits it.
In Tuesday's game Chris Carter hit two home runs, what else is new. Thankfully the Angels shouldn't have to face him again for three more years because he absolutely owns the Angels. Tropeano gave up five runs and the pen actually didn't give up any. Since the game started at 7 we actually got there early enough to see some of the pregame festivities. They had four ceremonial first pitches, a 93 year old woman, a banker, a fat guy and a NBA player. They just kept parading them out there one at a time and the 50 or so fans in the ballpark could not be less interested.
In both games I noticed that Mike Trout just never stops smiling, he really enjoys himself and he also seems to be very fond of Kole Calhoun. The two of them were always next to each other joking about something any time they could. I think that should be a big consideration before trading Calhoun, Trout already is stuck on a terrible team, taking away his friend would probably not be the best for his morale.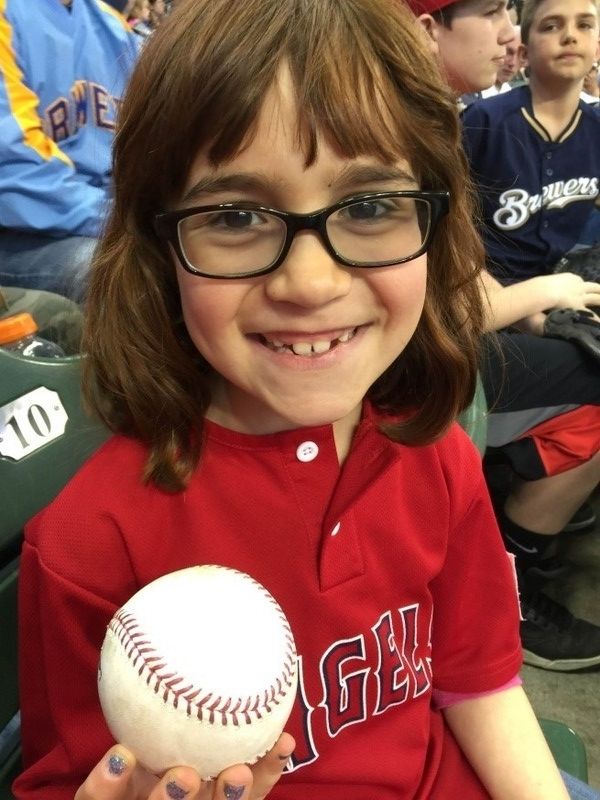 On Monday we were sitting behind the Angels dugout right where the players enter the dugout at the end of each inning. By far the best moment of either game was when Andrelton Simmons tossed the ball to my daughter. It is a moment I will never forget and I know she won't. She instantly became his biggest fan; in fact the Angels little league jersey she was wearing was #2 which totally cemented it. It was one of those moments that can change how a person is a fan. She was already a huge Angels fan and loves baseball and it felt like this just made her that much more of a fan. She told everyone she knows about it and has the ball sitting up in her room like a trophy. Going to a baseball game with family is already a great experience and this just made it that much more special. I haven't had the heart to tell her that he is injured. She will be devastated.
If you will allow me to briefly rant, as an Angels fan living in southeast Wisconsin, I pay for MLB.tv in order to watch Angels games. Since the Angels were playing the Brewers the games were of course blacked out, which is fine except for the fact that Wednesday's game was not on TV at all in Wisconsin, not on local TV, not on cable. The Brewers apparently don't have a TV deal that covers all games like the Angels do. Even though the game was not available on TV in SE Wisconsin, the MLB blacked out the game so I was unable to watch it. These idiotic and archaic blackout rules that sports leagues hold onto are nothing but a giant middle finger to the fans of their sport and they should be absolutely ashamed of it.
Anyway, thanks everyone for reading. If you ever get a chance to go to a game at Miller Park I highly recommend it. It is a great place to spend the night watching a baseball game.